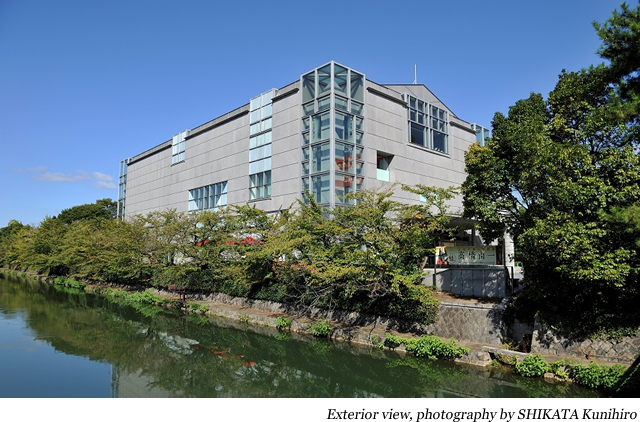 The National Museum of Modern Art, Kyoto (MOMAK) is located in the greenery of Okazaki Park and faces the approach to the Heian Jingu Shrine and the Biwako Sosui stream. It was first opened in March 1963 as the Annex to The National Museum of Modern Art in Tokyo, in the former auxiliary building of the Kyoto Municipal Exhibition Hall for Industrial Affairs. The Kyoto Annex became independent as the National Museum of Modern Art, Kyoto in June 1967, and the present building was completed in September 1986.

It boasts one of the largest collections in Japan with more than 13,000 works, ranging from paintings, prints, sculptures, crafts, architecture, and design to photographs and videos. To showcase the richness of our collection, we present collection exhibitions on the 4th floor and special exhibitions on the 3rd, about five times a year respectively. Our activities also include the acquisition of art works, books, and related materials, as well as learning support.
Greetings from the Director General
Opened in April 1963, the National Museum of Modern Art, Kyoto will celebrate its sixtieth anniversary in 2023.

We have collected works of modern and contemporary art and related materials primarily from Kyoto and introduced them in our collection exhibitions. We have also provided opportunities to appreciate art through special exhibitions and educational programs. Our emphasis on crafts and Japanese-style painting is one of the hallmarks of our museum, and we will strive to further enhance our activities.

We will continue to work towards creating an attractive museum that meets your expectations, and we ask for your warm support in our endeavors.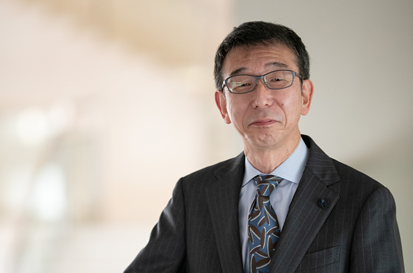 FUKUNAGA OsamuDirector General, MOMAK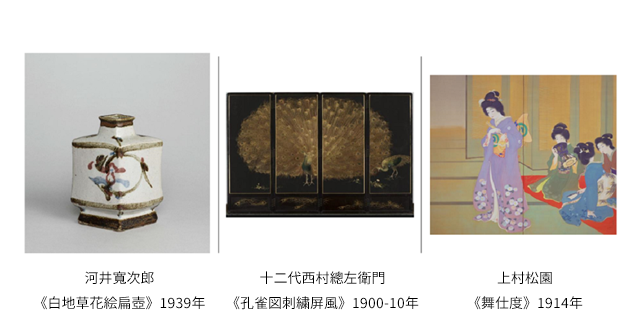 About Our Collection
With an emphasis on art from western Japan, centering on Kyoto, our museum collection comprises 13,000 items ranging from ceramics, textiles, metalwork, and other modern and contemporary crafts to Japanese- and Western-style paintings, prints, sculpture, and photography. We have also acquired entire collections that have belonged to individual collectors and artists such as The Kawakatsu Collection and Fin-de-Siècle Viennese Graphic Design Collection. In order for visitors to appreciate the broad range of the collection, our Collection Galleries present exhibitions on the theme of the changing seasons, anniversary exhibitions of important artists, exhibitions featuring research results of each curator, and exhibits related to our learning support activities.

KAWAI, Kanjiro《Flask with Grass and Flower Design on White Groun》1939

NISHIMURA, Sozaemon XII《Four-fold screen with peacock and peahen on silk embroidery》1900-10

UEMURA, Shoen《Preparing to Dance》1914