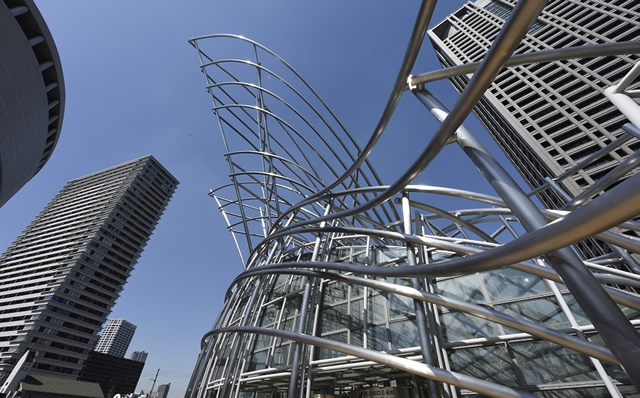 The National Museum of Art, Osaka (NMAO) was opened in 1977 for the purpose of collection, preservation, and presentation of domestic and international works of contemporary art, as well as related research and projects. In the building originally built as the Expo Museum of Fine Arts at Expo '70, we worked to promote the development of contemporary art in Japan. More than 30 years after the building's completion, we faced problems due to the aging of the facility. So, we built a completely underground museum in the western part of Nakanoshima, Osaka, and our museum was relocated there in 2004.

As an art museum that disseminates contemporary art, we introduce a broad range of Japanese and international art trends and actively engage in activities that meet the diverse expectations of visitors.

The exterior of the museum building represents the development and growth of contemporary art in the image of the vitality of bamboo. We provide comfortable places for visitors to appreciate art, including a public zone where people can interact with art. Our museum is familiar to everyone as a cultural center that passes on history and culture.
Greetings from the Director General
The National Museum of Art, Osaka will soon celebrate its 50th year of collecting, exhibiting, and disseminating contemporary art from Japan and abroad. We would like to thank once again the numerous visitors to the museum and all those who have cooperated with us in many different ways.

In 2022, Nakanoshima Museum of Art, Osaka was opened adjacent to our museum, attracting a great deal of attention. Along with the existing Museum of Oriental Ceramics, Osaka, there are high expectations for the future development of the Nakanoshima cultural zone. Under such circumstances, we hope to become more popular as a thrilling site that communicates the appeal of diversifying contemporary art both in Japan and abroad. We need the support of many people to sustain and further enhance our activities. We ask for your help in moving the National Museum of Art, Osaka forward another step, or even half a step.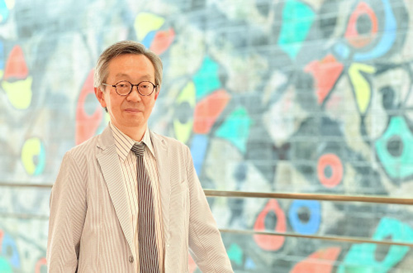 SHIMA AtsuhikoDirector General, NMAO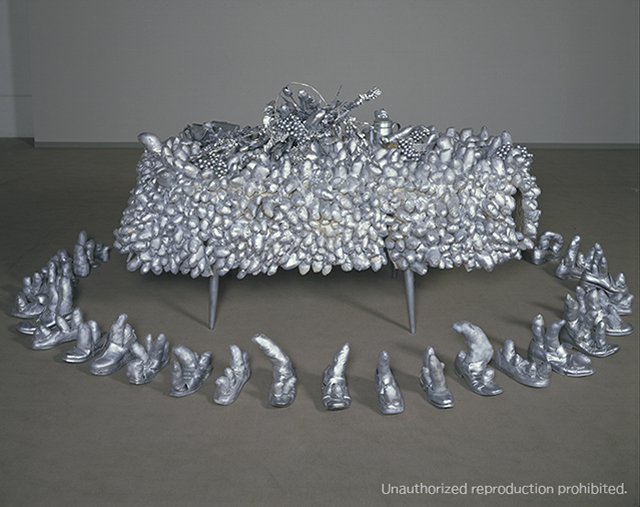 About Our Collection
Among the six national art museums, our museum collects primarily contemporary art. Since its establishment in 1977, we have collected mainly contemporary art from Japan and other countries dating from 1945 onward, with the aim of clarifying the relationship between the development of Japanese art and trends in the world art scene. Our collection consists of 8,200 works as of March 2022. Our collection mainly focuses on postwar art in Japan and abroad, particularly on trends in contemporary art. In addition to paintings, sculpture, prints, and photography, in recent years we have been actively collecting new genres of art such as video and performance. Works from the collection are shown primarily in the collection exhibition held in the galleries on the second basement floor.

KUSAMA, Yayoi《Desire for Death in the World of Silver》1976